PJ Harvey: Mercury Music Prize Winner 2011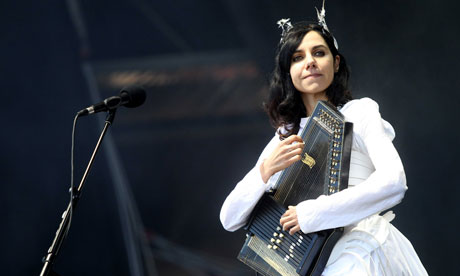 As I mentioned in my previous blog, I'm a big fan of the Mercury Music Prize, and look forward to it every year. However, I was a fair bit disappointed in this year's list, an overly obvious selection (in my opinion), but I can at least say it went the way that everyone expected, with PJ Harvey becoming the first artist to win the prize twice, this year celebrating 'Let England Shake', a hugely crtically esteemed offering.
I'll be honest and say that I'm not full acquainted with this album, but personally, PJ leaves me reasonably cold. Doesn't mean to say I dislike her, for I fully respect any independent artist with that following and back catalogue, it's just that she wasn't who I would have chosen. But then again, I was underwhelmed by the majority of the list: the phrase 'best out of bad bunch' seems to spring to mind.
But still, none of the featured acts were downright terrible. And if the Mercury Music Prize is a reason for people to go and check out music they may have missed over the year, isn't that a good thing? I'm a firm believer that the Mercury Music Prize, whilst allegedly based solely on the artistic merit of the acts, should also be about giving a profile raise to those most in need of it, and whilst PJ is quite an established artist, I'm sure she will benefit from increased sales. Whilst I feel a band such as Metronomy would have been a more deserving winner this year, having never been recognised before and having slowly built up a status for innovative indie pop, I don't think they'll be complaining. To even get nominated almost guarantees a surge in popularity that is invaluable.
All in all, I think I can let the Mercury off for having a pretty duff year. They usually nail it pretty head on, and at least this year PJ Harvey got the chance to collect her award in person, having been stuck in America for the ceremony 10 years ago, watching the Twin Towers burn down from her hotel room. In this way, we've come full circle, and hopefully next year the panel will decide to look forward to the new and innovative, the emerging bands and artists and opposed to the well loved but already 'set on the path to stardom' acts.Even if this is a factor not taken into account, perhaps it should be. In the mean time, see below for my alternative nominations list, the acts that I think Mercury severely overlooked:
Jenessa's Alternative Mercury Music Prize Nominees List 2011
The Horrors - Skying
Wild Beasts - Smother
The Joy Formidable - The Big Roar
SBTRKT - SBTRKT
Metronomy - The English Riveira
Bring Me The Horizon - There Is A Hell, Believe Me I've Seen It. There Is A Heaven, Lets Keep It A Secret
Benjamin Francis Leftwich - Last Smoke Before The Snowstorm
Friendly Fires - Pala
The Streets - Computers And Blues
The Vaccines - What Did You Expect From The Vaccines
GhostPoet - Peanut Butter Blues & Melancholy Jam
Miles Kane - The Colour Of The Trap