Jenessa's Top Ten Albums of 2010.
#10 - Plan B "The Defamation of Strickland Banks"
For the number ten position in my countdown, it was a toss up between this and Kings of Leon's Come Around Sundown. Now, the Followills may have transatlantic notoriety, and five wildly successful albums behind them, but the one thing Ben Drew, aka Plan B, has is that having a attitude problem actually works in his favour, and contributes to making The Defamation of Strickland Banks such an interesting crossover listen.
Plan B has always been fiercely independent and creative- when we were all expecting another hard hitting grime album, he does a complete U turn and pulls off a brilliant hybrid of Northern Soul, R&B and Rap, mixing his many talents as a storyteller to great avail. The contrast between his smooth falsetto and gritty rapping really has to be witnessed live, or one could almost suspect they're coming from different people. As listeners, we track his antics, the drunken debauchery of Stay Too Long nestling next to the loneliness and resolution of Traded In My Cigarettes, peaking with the string laden defiance of The Recluse. When many others in music are boasting about how many ladies they can pull or how much cash they're making, it's refreshing to see someone willing to push the envelope and deliver the unexpected.
Songs To Download - Love Goes Down, Stay Too Long, The Recluse
#9 - The Drums "The Drums"
It's not really a coincidence that almost every album on my top ten of 2010 list is British. As far as musical history goes, Britain have defined almost every major genre, reinventing the wheel with trends such as Shoegaze, New Rave, Dub-Step… the list is endless. But the thing that makes my Number Nine album such a good listen is that it embodies everything that's great about American and British culture.
The Drums
is basically 43 minutes of Summer. Awash with angular guitar, jerky vocals and equally sharp clothing, what better soundtrack could there be for the school holidays? Designed musically to be played in Hollister stores worldwide, upon initial listen it appears shallow and self indulgent. But like a Quality Street chocolate, The Drums surprise nut in the middle of their twee plastic wrapping and caramel is their misery, Morrissey style. You can't really get more lovelorn lyrics than "I thought my life would get easier/ instead it's getting harder/Without you." It's apparent from the off that they're not the most skilled musicians technically, but having been schooled by the likes of The Smiths and Joy Division in the art of lovable awkwardness, they've mastered the ability to create indie anthems out of very simple lyrics.
The Drums have often been accused of style over substance. If you ask me, there's no harm in looking good as long as you have the tunes to back it up. And when we're talking about a band who could afford to leave off their most famous song from their debut album because they felt "it wasn't us", I believe this to be the case. Admittedly, the future of the band looks dubious; having lost a member and aged considerably due to their whirlwind success, I'm not sure they could possibly recreate something so naive and gleeful sounding. But as a debut, it has a very distinctive style, that I'm sure will spawn legions of baseball jacketed copycats.
Songs to Download: Best Friend, Book of Stories, Forever And Ever Amen
#8 - My Chemical Romance "Danger Days: The True Lives Of the Fabulous Killjoys"
Having followed their career from the start, I am well aware that if any band can be relied on to reinvent themselves, it's My Chemical Romance. But still, even I wasn't expecting the colour, vividity and sheer positivity of Danger Days: The True Lives of The Fabulous Killjoys.
My Chemical Romance have always made it their mission to involve fans in a story, rather than just a collection of songs. Their constant creation of characters and narrative has become their calling card, separating them from many other contemporary Rock bands. However, starting a family and getting married seems to have put Gerard Way in a new headspace. The "us against the world" gang mentality is still present, but instead of being angry about it, MCR are embracing the party. From the sheer obtrusiveness of Na Na Na to the heartfelt chorus of Sing, there are plenty of moments on Danger Days that are perfectly orchestrated for arena sing-along moments. Gerard and co are certainly aiming for the big time. Stepping out of their normal genre for the first time, Planetary [GO!] and S/C/A/R/E/C/R/O/W are more dance floor filler and indie hit than emo respectively, which is a very brave and commendable move when you're a band that are as regularly pigeonholed as My Chemical Romance are.
Relying less on the shock tactics and doom laden imagery of yore, Danger Days is more a tale of survival and adventure, a self confessed injection of fun into the pretty miserable music industry. My Chemical Romance could never be accused of being boring, and this album is a much a lesson in storytelling as it is in epic theatricality that is likely to send them massive.
Songs to Download: Na Na Na, Bulletproof Heart, The Only Hope For Me Is You
#7 - Tinie Tempah "The Disc-Overy"
In 2010, the genre known as Grime has been bought to the masses. Initially. I was genuinely fearful of a generation that were worshipping N-Dubz and their chavvy ilk, worshipping these 'musicians' who have nothing to say and are rehashing the same tired ideas of the late 90's. But when I was introduced to the works of a man known as Tinie Tempah, I realised something. Here we have a smart, young businessman who might rap about the money and cars and women, but is far more focused than his predecessors.
You'd have to pretty much be living under a rock for the last year if you don't know who Tinie is. First, he gave us Pass Out, one of the biggest singles of the year. Mashing up drum and bass with reggae and hip hop, and somehow managing to cross over into indie territory, he's tapped into a unique market that Dizzee Rascal before him attempted, but didn't quite manage to pull off long-term. He followed this with Frisky, played with the one and only Snoop Dogg at Glastonbury, wrote one of the biggest hits of the year with dance heroes Swedish House Mafia and slayed every festival going. Naturally, hopes were high for the album, and it didn't disappoint. Disc-Overy is nothing fancy: it's literally a collection of quality radio rap songs, the difference being that these songs are instantly catchy and could appeal to almost any music fan. For somebody who's only 22, Tinie is incredibly business smart and knows who to work with: this album contains cameos from Ellie Goulding and Kelly Rowland to name but two. The level of tongue in cheek lyricism assures us that he hasn't let fame go to his head, and isn't likely to go busting onto a stage during someone else's expectance speech anytime soon, like another rapper we could mention. But for anyone concerned that he's too commercial, just listen to Intro - I wouldn't argue with this man's flow. One of the album's of the year if only for its admirable enthusiasm and energy.
Download: Pass Out, Frisky, Simply Unstoppable, Intro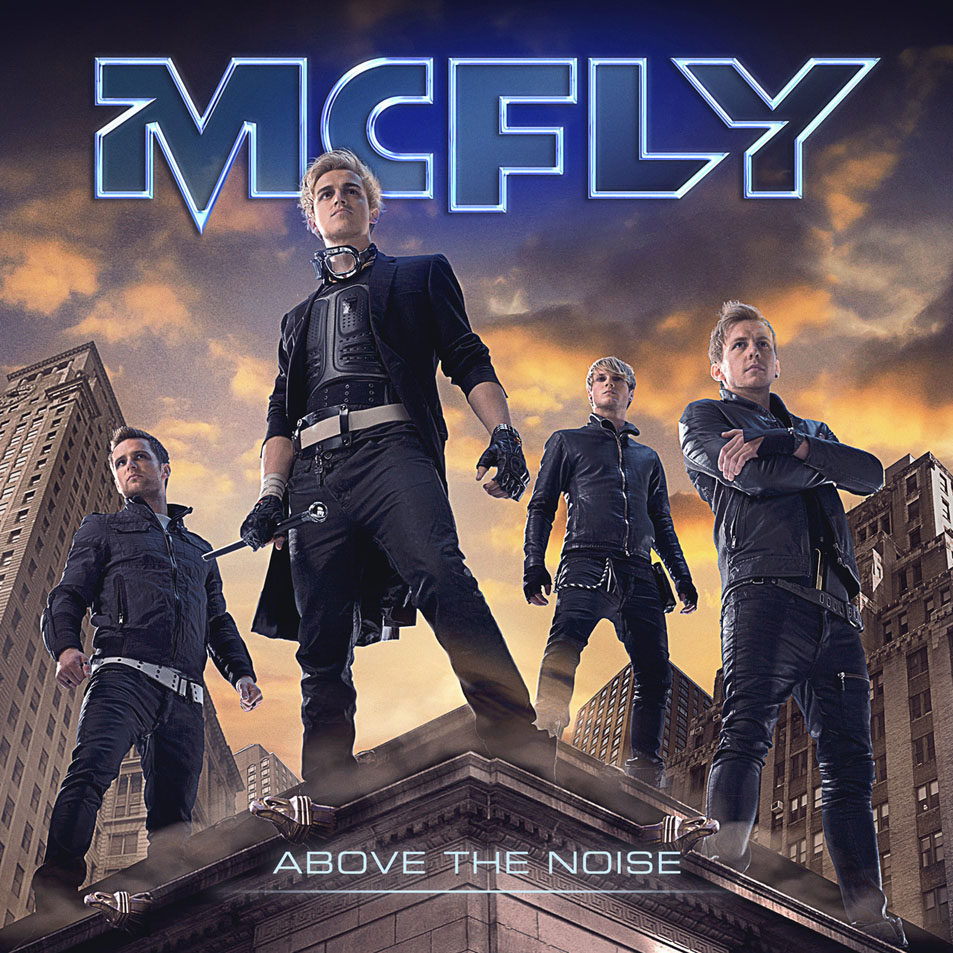 #6 - McFly "Above The Noise"
I can honestly say that my entire love of music and decision to make it my life can be rooted back to one band. A band that I have spent the last seven years or so growing up with, who've taught me the art of the epic pop song and introduced me to the power of live music. This band is McFly, and five albums in, they're still raising the bar.
It's obvious that the music industry has changed, and guitar pop is no longer the order of the day. But what makes Above The Noise stand out is that it's a reinvention, albeit a subtle one. Adopting an American producer has breathed new shiny, contemporary life into them, helping them turn straightforward pop hits into massive, club friendly bangers, most notably on Nowhere Left To Run and Take Me There. The dynamic between co vocalists Tom Fletcher and Danny Jones is rare in today's market, two voice that are so different in tone but synonymous with each other, ducking and diving and weaving between songs. Above the Noise marks them hitting their stride as singers, knowing their strengths and playing to them: Tom's breathy voice crooning on the ballads such as I'll Be Your Man, and Danny's edgier rock tones on the potential rock numbers like End of the World. By experimenting with pre programming and samples (including a pretty epic War of the World's breakdown in End of the World), McFly have gained a unique edge, something that has proved itself to be incredibly riveting live.
There's nothing here that'll overtly shock people, but an interesting progression for fans who've grown up with them. By coupling more mature and edgy lyrics nestled with the odd bit of toilet humour of old (IF U C Kate, anyone?), they are ensuring they move with the times. And in a pop world that's fast becoming clogged with X Factor wanabees and one hit wonders, it's good to see a band using their natural talent to create shamelessly catchy hits.
Songs to Download: End of The World, I'll Be Your Man, Take Me There
#5 - Two Door Cinema Club "Tourist History"
Generally speaking, my favourite indie bands are dark, cynical and often, slightly depressing. But in 2010, three men from Northern Ireland taught me that sometimes, great indie doesn't have to be overcomplicated or depressing; sometimes it can be perky, upbeat and danceable. Tourist History by Two Door Cinema Club is a master class in perky guitar pop.
Out of all my top ten albums, this is the one where each and every song could stand alone as a single. From the bouncy beach vibes of Something Good Can Work to the pure festival- anthem-in-the-waiting qualities of This Is the Life, this is the soundtrack of three unassuming young men having the time of their lives. Having learnt the art of the epic breakdown followed by massive guitar wig out from Arctic Monkeys (most notable on Cigarettes In The Theatre and Eat That Up, It's Good For You), they display a level of technical talent far higher than a lot of their Indie landfill contemporaries. But where Alex Turner is sarcastic and jaded, Alex Trimble writes lyrics with a hint of naivety that perfectly couples their tales of growing up and feeling insecure. Together, it creates the perfect time capsule for the summer of 2010.
Songs to Download: Something Good Can Work, Cigarettes in the Theatre, Eat That Up, it's Good For You
#4 - Gorillaz "Plastic Beach"
When creating this shortlist, I had a really huge issue deciding on the top four slots, which just goes to show what a fantastic year 2010 was for music. The album we have here was put at number four because, admittedly, I had to mark it down for losing focus towards the end. But for sheer imagination, innovation and downright magic, Plastic Beach by Gorillaz is one of my favourite albums of all time, let alone the year.
The fantastical world of the Plastic Beach is merely another chapter in the life-size book of genius that is Damon Albarn. His insane ability to defy musical genre is what makes Plastic Beach so impressive, the dreamy pop of On Melancholy Hill sitting comfortably besides the Hip Hop of Sweepstakes and the lush orchestration of the intro. I personally am complete sucker for a concept album and one about the effects of global warming (trust me, I could explain it, but we'd be here all day) seems as good as any, especially when it's crafted from lyrics so abstract that it takes a fair few listens for the true meaning to present itself.
However, amongst all of the debris and numerous stellar guest vocals (Snoop Dogg, Bobby Womack, Mos Def, Mick Jones… the list goes on) there are even two fully formed love songs, where the vocal chemistry between Albarn and Yukimi Nagano is almost tangible as they croon impossibly romantic couplets at each other. It sounds like a cliche, but the adventure of Plastic Beach truly is a journey akin to the "It's A Small World" ride at Disneyworld: full of culture, unique instrumentation, camaraderie and highest of all, ideas. For Gorillaz, it's not about the cartoons any more, but it's about the vision. I for one cannot wait to see what they come up with next.
Songs to download: Rhinestone Eyes, Welcome to the World of the Plastic Beach, On Melancholy Hill, Empire Ants
I always say that the very best bands have the ability to tap into a million emotions you never knew you had. The first band who comes to mind when I think of this is Foals. They are the originators of what I like to call Intricate Indie, (that's right, I coined that phrase) and Total Life Forever is their opus.
I could not have had this countdown without this album, purely for the reason that it spawned two of my favourite singles of all time - This Orient, and Spanish Sahara. Both possess a curious kind of enchantment, the former having a beautiful sense of almost nostalgic euphoria, the line "It's your heart than gives me this western feeling" meaning almost nothing and everything at the same time. For me, it perfectly epitomizes the strange, mixed up emotions you feel when you fall for that special someone. Spanish Sahara is a different beast entirely, uplifting and depressing in equal measure, depending on how and where you listen to it, lyrics such as "I'm the fury in your head" rather haunting. Foals have a depth that only reveals itself in headphones, the intricacy of guitars, keys and vocals unfolding themselves under Yannis Philapakis' unmistakable voice. Total Life Forever takes everything that was great about their debut Antidotes and turns it up to 11, taking in a mix of influences but creating a deep complex sound that is unmistakably, utterly Foals.
Songs to Download: Total Life Forever, This Orient, Blue Blood, Spanish Sahara
#2 - You Me At Six "Hold Me Down"
Once I fall in love with a great band, I love them for life. I track their progress, I read into their lyrics, I find as much information on their vision as possible. For the last three or so years, I have felt like a proud mother of one band in particular: this band is You Me At Six. I've watched them grow from the beginning, observed them turning from American emo copyists with rubbish adopted transatlantic accents to a bona fide, properly British rock band. Most of this transformation is embodied in my number 3 album - Hold Me Down.
What we have here is a collection of some of the finest pop punk available today. Full of heartache, anger, backstabbing and best of all, killer guitar hooks, You Me At Six have learnt one of music best lessons - betrayal and despair makes the best lyrics. Judging from the sneer of "you bitch" at the end of Contagious Chemistry, and the declarative "I wrote this song just to piss you off" in My Head Is a Prison and Nobody Visits, I would not like to be the person who wronged vocalist Josh Franceschi right now. His voice has strengthened immensely since the days of Take Off Your Colours, and as a lyricist, he's learnt that sometimes, the simplest messages are the strongest ones. The sheer anguish of Stay With Me ("You've got a lot to say, for the one who pushed me away/ I give, you take, its the way it's always been") and Fireworks ("Cos I don't know who I am, when you're running circles in my head/ Cos I don't know, who you are, when you're sleeping in someone else's bed") holds its power in the emotion of his voice, and makes for some actually quite uncomfortable listening.
However, the entire ethos of You Me At Six, and indeed, Hold Me Down, is the concept of "Down But Not Out". This defiance emanates from Playing The Blame Game and Underdog, and also in the gang mentality of the albums cameos from long-term YMAS friends Sean Smith (of The Blackout) and Aled Phillips (Of Kids In Glass Houses) Whilst there may be speculation as to how much of the songs are based in truth, You Me At Six's honesty is highly admirable, and demonstrates how much they are willing to put into their music, making for a very respectable runner up for album of the year.
Songs to Download: Stay With Me, Liquid Confidence, Contagious Chemistry, Fireworks
#1 - Bombay Bicycle Club "Flaws"
When I was 12 years old, I vividly remember buying an album called Whatever People Say I Am, That's What I'm Not. It was by a band called Arctic Monkeys, and within the first listen, I was completely in love. I never knew a single record could mean so much to me, and I was certain that the feeling I felt when I first heard it could never be replicated. I'm very happy to say that I was wrong. In 2010, came Flaws.
Flaws by Bombay Bicycle Club is absolutely everything an album should be. If anything, it's only letdown is that it isn't double the length. For starters, it's a departure; they strayed away from making the straight indie of their debut into timeless, romantic acoustic folk, being brave enough to let the bare guitars and lyrics shine through. But when you can write as classically as Jack Steadman can, why wouldn't you? Musically and poetically, it is a triumph, displaying a level of technicality rather impressive of such youth. A career highlight of his comes on the extended metaphor of Jewel, the lines ("our love was just one your discarded jewels/you think back to it's price and oh you feel a fool/ but in that certain light, it did look so beautiful") being completely summative of a relationship gone wrong. The transformation of Dust on the Ground from an indie floor filler to a tale of loss is nothing short of heartbreaking, and if I'm going to be honest, caused me to shed more than a few tears upon first listen. Similarly, the transposition of Fairytale Lullaby from a poem to a song is so effective it simply does what it says on the tin: lulls the listener into a blissful calm.
Personally, I can only ever connect with an album that has proper sentiments, and for me, Flaws its a highly emotional album: the love addled joy of Ivy & Gold, the dignified pain of Leaving Blues, and of course, the dreaminess of highlight track Flaws. The addition of Lucy Rose to this song adds to the elegance of it, the contrast in her voice and Steadman seeming almost made for each other. The best bit about the romance of Flaws is that it is youthful. If anything, the naivety and heaviness of the emotional narrative is only made more poignant when delivered in Steadman's unmistakable, world weary tone.
Lastly, it has the magic and innocence that means it never gets old. The messages never change, the delicate sounds of the frets over jacks lilting and coaxing voice never wavers, except when intended for dramatic effect. Flaws can be the soundtrack to happiness, sadness, despair, stress and best of all, inspiration. Not in recent years has there been such an album that so perfectly fits every mood, and this is what makes Flaws so special. Above anything, if such a collection of beauty can be created by four kids from Crouch End in a bedroom, it shows things are achievable. Big accolades and awards mean little when an album can stand alone as being the single best thing of the year. And in my opinion, it was never in any doubt. So congratulations and thankyou to Ed Nash, Jamie MacColl, Suren de Saram and Jack Steadman. For cheesy as it sounds, you've made an album that is completely flawless.
Songs To Download: In truth, download it all. You'll be glad you did.